13.10.2005 DISCOUNT OF A LIFETIME FROM DELTA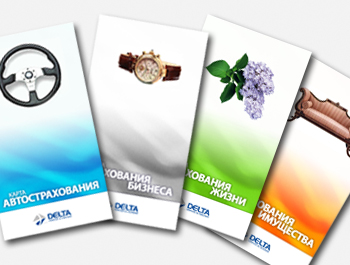 Marking its sixth anniversary this year the insurance company DELTA has made its clients an exclusive offer – a set of discount cards valid for… a lifetime. Rich in imagination DELTA has long been known for its holistic approach, but offering something as durable as this can really raise a few brows.
Speaking of the offer, Company CEO Elena Breazgunova said the idea of cards didn't emerge on the spot.
"It took us a while to decide on the best way to express our gratitude to the most loyal customers. At first, we thought about offering them a discount on car insurance, the most popular service, but then figured that it would automatically make us widen the spectrum. Eventually it came down to an exclusive insurance package comprising four cards: motor insurance, business insurance, property insurance, and life insurance," Breazgunova explained.
Going for any two of these cards will provide a 40% discount. Customers bringing in their spouses, colleagues, relatives or friends may double that. Among other conveniences, the new offer boasts the following features:
1. All cards are issued in the name of holders and bear individual numbers 2. To obtain maximum discounts and bonuses, the cards may be passed to a third party. 3. Depending on the number of accrued bonuses, in time of holidays, the holders may receive valuable gifts and prizes.
DELTA shareholders have shown understanding to the new offer even to the detriment of their own earnings.
"Working for the future has always paid off, especially in insurance business where everything depends on clients. As to the DELTA's future, by the end of this year our English partners have decided to put in the Company over 5 mln lei as a start-off investment," said the CEO.
At this point, DELTA has more than six thousand customers in Chisinau plus another five thousand in Cahul, Comrat, Balti, Taraclia, and Soroca. In 2005 the percentage of motor insurance payments in the Company has jumped from 35% to 46% of the total premiums. In cases where due compensation is too big, the repayment may be effected in installments, subject to prior agreement with a client. Today, DELTA fully complies with international standards and can provide any kind of insurance service. As at October 1, 2005, the Company's equity has been estimated at 3.05 mln lei, assets – at over 6.2 mln lei.