INTERNATIONAL SUMMER SCHOOL AND DISTANCE LEARNING PROGRAMME "SECURITY, STABILITY AND INTEGRATION"
25.03.2008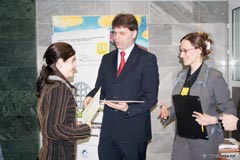 Hilfswerk Austria in partnership with Institute of History, State and Law of the Academy of Science of Moldova (Chisinau) and Information Resource Centre "World Window" (Tiraspol) would like to inform you on its International Educational Program running in Moldova that includes three annual Summer Schools and Distance Learning Programs with the total duration between November 2006 – October 2009. The first Summer School "Security, Nationality and Citizenship" took place last summer between July 8-17 and was preceded by the opening of the Austrian-Moldovan Information Centre on Peace Initiatives, Democracy Changes and Conflict Resolution. The overall purpose of the program is determining educational policy for democracy consolidation in the RM, as well as educating the youth in the spirit of the European values.

This year we have the honor to inform you on the second Summer School with the topic "Security, Stability and Integration" to be held during 7-12 July 2008 in Odiseu Resting Center (Vadul-lui-Voda).

In this Summer School there are invited to participate young men and women from different University and Academic Institutions from both sides of Nistru River who have interest in establishing a transparent constructive and mutual dialog between diverse social, political and ethnic groups from the Moldovan society aiming at consolidation of the Republic of Moldova statehood, peaceful solving of the Transnistrian conflict and edification of an external pragmatic policy based on the unanimously recognized principles of the international law.

Selection of Summer School participants shall be competition based with the final selection of 25 best applicants. Students shall apply on-line via email at cornescu@hwa.or.at starting 31 March with the deadline of 30 April 2008. The selection process will consist out of two rounds that will include written and verbal communication.

The conditions of participating at the selection competition are the following. Eligible students have to be:
• Enrolled in undergraduate studies and above (master and doctorate degree)
• Studying Law, International Relations, History, Politic and Administrative Studies or other specialties but have proven interest in the summer school topic
• Fluent in English

The first round consists of the following. Above mentioned students should:
• Send their CV in English
• Write an essay amounting to 1500 words on the topic "Security, stability and integration"
More information on www.cpi.md.
The Programme is funded by the Austrian Development Cooperation and co-funded by ERSTE Foundation, City of Vienna, OSCE Mission to Moldova and Hilfswerk Austria.