THE ADVENTURE HOSPICE BIKE TOUR 2017 HAS ALSO STARTED FOR 3 MOBIASBANCA EMPLOYEES
20 june, 2017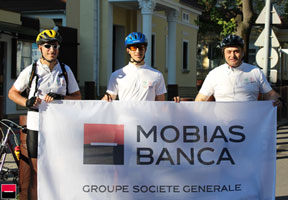 On June 19th, alongside other ten volunteers, they started the amateur cycling race, crossing over 700 km. Starting from Chisinau, the volunteers will cross the following route: Iasi, Bicaz Lake, Miercurea Ciuc, Hospice House of Hope in Brasov and finishing the race at Hospice House of Hope in Bucharest.

"The synergy of doing beautiful things for the benefit of society is the main catalyzer for the Mobiasbanca team. We wish tenacity to our colleagues involved in the Hospice Bike Tour 2017 while over 700 (seven hundred) Mobiasbanca employees are crossing their fingers and encouranging them.

We are very proud with our community's powerful team spirit that has become part of every bank employee's DNA", said Stela Ciobanu, the General Secretary of Mobiasbanca.

We underline that 13 (thirteen) cyclists of the current edition gather their efforts in order to collect funds to support the Hospices of Hope activity in Moldova. This activity ensures the continuity of medical and social care services for children and adults suffering from incurable diseases or limited daily life conditions in Orhei, Ocnita and Soroca.
Mobiasbanca participates for the second year in a row at the Hospice Cycling Tour with a larger number of volunteers in comparison with the previous year, being the only participating bank in the tour.

Moreover, the hosts of the event launched an online platform https://guvern24.md/en/projects/hospice-bike-tour-2017/, where everyone can contribute to fund raising for the noble cause promoted by Hospice of Hope Moldova.