MOBIASBANCA - THE MOST ACTIVE ISSUING BANK IN MOLDOVA IN 2016
29 june, 2017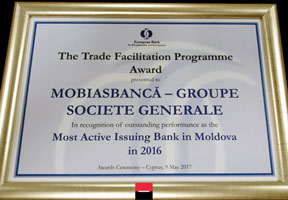 The European Bank for Reconstruction and Development (EBRD) has awarded the most active issuing banks which are part of the Trade Facilitation Programme (TFP) at the EBRD's Annual Meeting and Business Forum, which took place recently in Nicosia, Cyprus.

Repeatedly, this year, Mobiasbanca has also been awarded the TFP Program Award, as a sign of recognition and appreciation of the value of the bank's warranty and documentary credentials issued during the year under the Program.

"We highly appreciate the collaboration with the EBRD, including the financing of trade operations, and the added value of this collaboration for Mobiasbanca's customers. The EBRD's award for our bank's trade finance results is another confirmation that financial products and services offered to local businesses are most suited to business finance and entrepreneurship development with the support of international financial partners. Being named "The Most Active Issuing Bank in Moldova in 2016", we target to become even better in 2017, being convinced that trade development is an important way of consolidation of the local economy as well", mentioned Elena Guzun, Commercial Director Corporate Banking Mobiasbanca.

"We congratulate Mobiasbanca on this award. The bank is an important partner of the EBRD in the region. This award further underlines Mobiasbanca's commitment to supporting international and intra-regional trade", said Dimitri Gvindadze, EBRD Head of Moldova.

The EBRD's Trade Facilitation Programme (TFP) currently includes 96 partner banks from 26 countries.