​ MOBIASBANCA - THE BEST BANK IN MOLDOVA, ACCORDING TO THE EUROMONEY AWARDS FOR EXCELLENCE 2017
24 july, 2017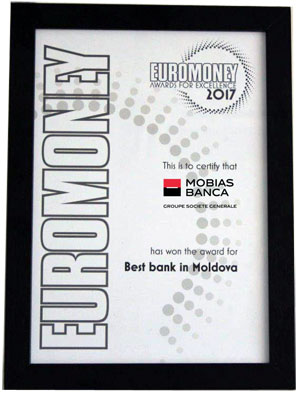 The excellence of Mobiasbanca's products and services was highly appreciated and awarded at the Euromoney 2017 Excellence Gala Awards, at a recent ceremony that took place in London, where the bank was awarded as the Best Bank in Moldova.

The award reconfirms internationally the quality and accuracy of the policies promoted by Mobiasbanca to meet the needs of its customers through innovative banking products and services, augmenting thus the ambition to be the most reliable, secure and trustworthy bank in the Republic of Moldova, to build long-lasting relationships with customers through team commitment, to provide modern solutions and simplified processes.

"We are honored to receive such a prestigious distinction, which sustains Mobiasbanca's role in financing the national economy. We are committed to support the growth of our clients' businesses, to increase operating standards and trust regarding the banking system. On this occasion, I would like to thank Mobiasbanca's clients for their trust and my colleagues - for their commitment and dedication", said Antoine Gabizon, President of Management Board - CEO of Mobiasbanca.

Euromoney is one of the most important global financial publications that has been evaluating and appreciating the best banks in the world for 26 years. The results will be published in the July edition of the magazine and also on www.euromoney.com.

Please note that several subsidiaries of Groupe Société Générale have been highly appreciated for excellence with high Euromoney 2017 distinctions, including in France, Macedonia, Ivory Coast, Slovenia and so on.

We promote excellence, because that is correct!