MOVEMENT FOR HEALING
22 august, 2017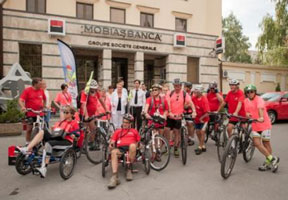 Adherents of an active lifestyle, people with a strong will and a big heart, even if they have limited movement capabilities, are not deterred from sharing their energy and charitable spirit with others from other countries.
During 21-28 August, a group of enthusiasts of the Courir pour Guerir association in Montbrison, France, composed of disabled people and companions, will be in the Republic of Moldova for a beautiful cause.
From Mobiasbanca head office, they will start a race through several localities in the republic (Orhei, Nisporeni, Telenesti, and Ungheni) on bicycles and tricycles adapted for people with locomotor disabilities.
"Our goal is to create conditions for people with disabilities and/or disabilities to claim a positive self-image and to reintegrate comfortably into society through various activities. This year we have decided to help a francophone country – the Republic of Moldova, donating useful things to specialized institutions and building new bridges between France and the Republic of Moldova", Courir pour Guerir representative Valerie Mathevon said.
Along the route, the Courir pour Guerir members will visit hospitals, schools and centres for people with special needs and specialized associations, will donate materials and medical instruments, stationery items, but will also demonstrate by their own example that disability is not a sentence, and an active lifestyle can be followed under any conditions.
"We have accepted the invitation to host these full of energy and absolutely special people who inspire us to live our lives to the fullest and overcome the limits of our own experience.
We believe that each person has the right to equal opportunities, and we are trying to contribute through financial support, volunteering and other actions to the inclusion of people with special needs in social life", Stela Ciobanu, General Secretary of Mobiasbanca said.
We promote active and healthy lifestyle, because it is #correct!