MOBIASBANCA CLIENTSHAVE MADE A NOBLE GESTURE FOR CHILDREN
18 december, 2019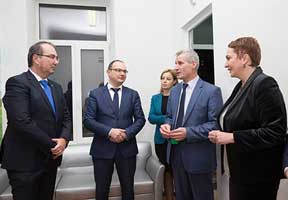 It is already the second consecutive year in which Mobiasbanca – OTP Group S.A.has decided to redirect funds for clients holiday gifts to the repair of the "Emilian Coțaga" Children Clinic of the Mother and Child Institute.
This year has been renovated the Admission Section of the hospital, where over 6000 children are examined annually. Thanks to the support of the bank'sclients, were carried outrefurbishment works and changed the exterior doors, also, these rooms were equipped with the necessary furniture. The hall of the section was decorated with brightly colored drawings to create a warm ambience for the little ones hospitalized.
"We wish that all the children who are admitted to be treated in this clinic, right from the entrance, will feel a welcoming and cheerful atmosphere, through the flamboyant drawings ripped from the favorite stories, even a little bit to be able to deviate from the pain that they feel. We believe that all children, regardless of where they are admitted and treated either in private or state hospitals, should benefit from the same conditions. We are very grateful to our clients, who, indirectly, supported this important project. ", Said Stela Ciobanu, Vice President of the Executive Committee - Secretary General of Mobiasbanca – OTP Group.
The vice director of the clinic, Mr. Vasile Tomuz, expressed his gratitude for the support given to the institution: "This section needed urgent rearrangement, because
here, annually, over 23 000 children are considered for primary consultations or admission. In this place sick children have first contact with the hospital. We thank Mobiasbanca for the given help and the transformation of this section into a bright and colorful place."
Mobiasbanca – OTP Group is appreciated for its stability and transparency, quality financial products and services. The bank has a developed corporate culture that is shared by its employees and is actively involved in the social life of the community in which it activates, supporting culture and art, people with special needs, sports and volunteering.