MOBIASBANCA – OTP GROUP – AN EMPLOYER RESPONSIBLE FOR ITS TEAM
13 may, 2020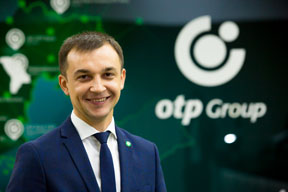 A brand built on values, withstands the test of time and temporary challenges. At the same time, a strong team builds a strong brand. At Mobiasbanca, we always put people first, being a responsible and reliable employer for 30 years. More details about the commitment of the management of Mobiasbanca - OTP Group towards the team, says the head of the Human Resources Department, Radu Jechiu.
How did Mobiasbanca – OTP Group respond to this challenge created by coronavirus infection?
R.J. – Our highest priority was to protect our employees, in this regard measures of maximum social isolation were taken.Initially, the activity of several units was stopped, in order to return from 1st of April to short-time working in all branches. For about 200 employees, with sales, support and control functions, technical conditions for outsource work were created immediately after the announcement of the state of emergency. All employees were trained online about COVID 19 infection prevention measures and measures of prevention of the spread of through a regular eLearning and internal information module on protection measures.
-What measures have you taken for employees working in the office or branches?
R.J. – The bank remained available to its clients with the full spectrum of services, offering some supportive measures during this difficult period from a financial point of view. For employees working in offices and branches, immediate protection measures were taken by equipping them with the necessary equipment, disinfectants, monitoring the temperature at the beginning of the working day, reducing the work schedule. In addition to the measures mentioned above, the employees working in the office were provided with individual transport by taxi services.
-Many people lost their source of income during this time, employers had no other choice than to reduce staffs or even stop working. What is the situation from this point of view at Mobiasbanca - OTP Group?
R.J. – The bank has maintained the same salary level for employees working in the office, branches or remotely. Employees whose activity has been interrupted, for operational reasons, who have working from home are remunerated with 90% of the basic salary. They represent 16% of the total number of employees.
Moreover, the bank's management honoured all its obligations and decisions taken before the crisis, thus, salaries were increased for certain categories of employees, within the annual salary review exercise, annual performance bonuses and Easter bonus were paid to all employees.
-In an interview with the President of the bank, László Diósi spoke about the bank's ambitious development plans and mentioned the need to expand the team. Do you continue recruiting during this period?
R.J. –In order to comply with the sanitary protection measures and to ensure the qualitative integration into the team of the new colleagues, the recruitment rate decreased, being kept only for key functions and roles necessary to be filled for the already started projects, and the interviews are conducted online. Gradually we began to return to the initial recruitment plan, to prepare for the resumption of activities necessary to achieve our ambitious goals.
-Have you identified any benefits from working from home during this period? Are you considering the opportunity to maintain this practice for certain functions?
R.J. – There's a reality to which we have adapted ad hoc, by reorganizing the bank's activity.
Of course, it's a new experience for many of us, because some time ago we had the option to work from home only at the level of ideas. During this period, obviously, many colleagues became supporters of remote work, and others appreciate even more than before the opportunity to work in the office.
Probably, this crisis will give a boost to different sectors and companies both internationally and locally to adjust more quickly their traditional models of organizing team activity. Mobiasbanca has the necessary capabilities to develop and implement changes in this regard.
I would like to have implemented a hybrid model in which more colleagues will be able to work from offices but also from home, having a work schedule adjusted accordingly, thus combining the advantages of both options. In these new working conditions, both parties have something to gain.
-What lessons did you learn in this new situation?
R.J. – Any unforeseen situation is a test, and the success of the answer depends on the flexibility and response time of the organization. Once again we were convinced about the importance of the people, the team and the need to build a team based on common values.
We have seen that we can make many good changes in a shorter period of time. The quality of responsible employer - is not only related to the measures taken during normal periods of activity, I would say that this quality is confirmed in any uncertain or difficult period. Mobiasbanca-OTP Group demonstrates through its actions that it is a desirable employer.
Even if this crisis forces us to slow down, we need to prepare for a return to normal, we need to be prepared to continue to implement development plans, to continue to train teams by adjusting the program to new circumstances, maybe in a different, more interactive form and other internal activities to revitalize the team, to offer encouragement and security to colleagues.
I would like to end my thoughts with the following quote from Albert Einstein - "Life is like cycling. To keep your balance, you have to keep moving forward."