THE LATEST GENERATION EQUIPMENT FOR INTUBATION DONATED BY MOBIASBANCA - OTP GROUP
16 july, 2020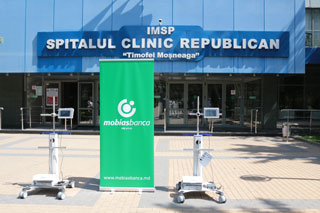 Mobiasbanca - OTP Group has always been concerned about PEOPLE. People's life and health being a priority of the bank's partnerships with medical institutions in the country.
Mobiasbanca to the Republican Clinical Hospital "Timofei Moșneaga" donated two video laryngoscopes, produced by the renowned German company KARL STORZ. This equipment will facilitate the intubation of patients with severe respiratory deficiencies, in conditions of high protection for medical staff.
"We want the medical staff, overworked during this difficult period, to be as protected as possible and to be able to provide high quality medical care to patients in serious condition throughout the country, who are hospitalized in the intensive care department of the Republican Hospital "Timofei Moşneaga". This medical equipment offers patients, through progressive technical possibilities, greater chances of recovery and cure." said Stela Ciobanu, Deputy CEO - General Secretary.
In order to properly use the equipment, which is performant and unique in the Republic of Moldova, medical staff should be trained, so that in the shortest time the patients of the two intensive care departments of the medical institution, could benefit from high quality medical care.
The two video laryngoscopes are equipped with specialized fiber optics that use a video camera to allow the doctor to see the glottis and larynx on a video monitor. They contain original MACINTOSH blades, with options of D-blade, C-MAC monitor, video camera, and processor, mobile trolley for the Emergency Service and exceptional situations, which allow the intubation of patients in an efficient, fast and most important – in a safe way for doctors.
We thank the bank's partners for facilitating the successful realization of this project of national importance.
Mobiasbanca - OTP Group, 30 years of trust and responsibility!