MOLDOVA AGROINDBANK - TRIPLE WINNER OF NATIONAL BEST BRAND, QUALITY AWARD CONTESTS
21 august, 2020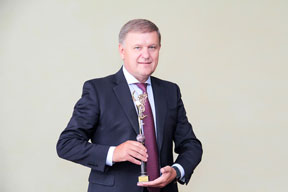 Moldova's leading bank, Moldova Agroindbank (MAIB), has been awarded grand prizes of the national contests Best Brand and Quality Deity conducted by the Moldovan Chamber of Trade and Industry.

The trophy Reputation and Trust reconfirms the statute of undisputable leader of the banking sector, with MAIB holding the lion's share in terms of assets, loans, deposits, topping the bank performance ranking and being the first-choice bank for about 1 million clients due to its quality banking services and products.
.
MAIB is highly grateful for being acknowledged as the best Socially Responsible Brand in the banking sector, with the grand prize motivating the bank to take even more consistent actions to benefit its clients, partners and the community. Over the years, MAIB has strengthened a high-impact CSR portfolio, backing projects in the sectors of culture, education, sport, healthcare, corporate charity, and developing corporate volunteering.

LiberCard - the first interest-free shopping card in Moldova launched by MAIB in 2019 was awarded the grand prize in the nomination Debut of the Year. The card, which implies instalment payments, enjoys popularity among about 20,000 cardholders due to its multiple advantages. Currently, Liber Card takes pride in its wide partner network covering the whole country with about 3,000 points of sale.
"We are grateful for your high appreciation and for the fact that by its deeds, the Chamber of Commerce and Industry motivates the business environment to strive for more. To us these awards come as a recognition of the quality of our whole activity along the years and it goes without saying that these awards are the result of consistent efforts taken by our over 2,000 employees on a daily basis. We will keep on doing our best to further meet and anticipate the needs of our clients and community," Serghei Cebotari, MAIB CEO, said while receiving the awards.

"These awards represent the preferences and trust of consumers. The prize winners were selected following a survey conducted among 5,000 respondents. Competition among participants, including those from the banking sector, was rather fierce and the prizes presented to MAIB attest to the trust consumers invest in the bank," Sergiu Harea, the chairman of the Chamber of Commerce and Industry said.
Over the past years, juries of various national and international contests for the financial and banking sector highly appreciated MAIB's performance. In 2020, the international magazines Finance Central Europe and Global Finance presented MAIB with the title of Best Bank Moldova. MAIB also won the award Best Digital Bank Moldova of Global Banking and Finance Review.