​TRANSNISTRIA AND SERBIA CONFIRM INTEREST TO COOPERATE WITH RUSSIA
27 november, 2015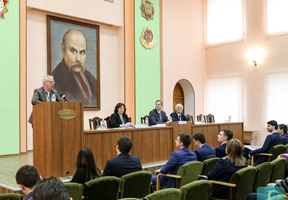 The Transnistrian Moldovan Republic (PMR) and the Republic of Serbia are interested in broadening their multifaceted cooperation with the Russian Federation, including in the military-political sphere, reads the resolution adopted in Tiraspol on Thursday at the end of a scientific-practical conference called "PMR and Serbia: Defense of Sovereignty in the Conditions of International Turbulence".
The forum was organized by the Transnistrian ministry of foreign affairs and Tiraspol University, and was attended by politicians, experts, researchers and officials from the unrecognized PMR, Serbia and Russia.
The Resolution said that Transnistria and Serbia "are states whose peoples – with their cultural-historic, socio-political and spiritual criteria – tend strongly to Russia. But in virtue of large-scale geopolitical processes they have been isolated from the Russian civilization continent, and have found themselves in the field of influence of European and Euro-Atlantic integration processes that are mistrusted by the societies of these two states".
The conference participants believe that the Eurasian integration looks more attractive to peoples orienting to Russia and to the Orthodox socio-cultural model of development.
In their opinion, the experience of trade and economic interaction with European Union countries is demonstrating a high potential of cooperation, conditioned by a vast internal market and a sustainable economy. However, the European Union's policy towards neighbors does not let use this potential to a full extent.
At the same time, conference delegates shared the opinion that interaction with the countries of the Eurasian Economic Union presents a high interest and possesses a whole number of essential advantages such as a dynamically developing market functioning according to World Trade Organization rules, a fairly modest level of competition, cheap energy sources, and some other.
"The challenges and threats common for Transnistria and Serbia, the need for withholding external pressure, and the necessity to strengthen sovereignty and preserve the unique identity of the two peoples are making ever more topical the question of joining the efforts of the two states and of rendering reciprocal assistance for achieving a common goal – strengthening of cooperation with the Eurasian Economic Union", said the conference resolution.
Its authors expressed confidence that the scientific and expert communities of Transnistria, Serbia and Russia will use the results of the done work for working out coordinated approaches to resolving regional problems, including by means of developing a complex-like cooperation with the Russian Federation in the military-political, socio-economic, cultural and informational spheres".