RUSSIA WILL CONTINUE ITS SUPPORT OF TRANSNISTRIA AND PEACEKEEPERS THERE – AMBASSADOR MUHAMETSHIN
05 octomber, 2017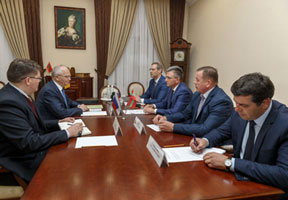 Moscow will continue supporting the Transnistrian republic and the peacekeeping forces deployed on the Dniester River, the Russian Federation's Ambassador Extraordinary and Plenipotentiary to the Republic of Moldova, Farit Muhametshin, stated confidently here during his Wednesday's meeting with Transnistrian president Vadim Krasnoselsky.

The diplomat stressed that "Discussion about Russian peacekeepers withdrawal may be started only when appropriate conditions are created for this, and now such speculations are obviously untimely".

Muhametshin supported the position of Russian Deputy Minister of Foreign Affairs/State Secretary Grigory Karasin, which he spoke out in his interview published by Kommersant [an influential Moscow newspaper] last Tuesday, who said: "Those who are demanding the Russian military out of Transnistria have too short a historic memory. If they keep demanding this, it may lead to aggravation of the situation".

"It was said rightly that, apparently, some people have a really strong headache caused by the success of the Russian peacekeeper operation on the Dniester", presumes the Russian ambassador.

His opinion was shared by Vadim Krasnoselsky, who assured that Transnistria, from its part, will be insisting on the inadmissibility of a revision of the current format of the peacekeeper operation, which has proved its efficiency over last 25 years.

"We in Tiraspol believe that it is inconsistent to speak of replacing the operation with an international mission of civilian observers or with UN Blue Helmets", stated the Tiraspol leader.

Ambassador Muhametshin introduced to Krasnoselsky the Russian Federation's new Co-Chairman of the Joint Control Commission [JCC, a supervisory body for the Joint Peacekeeping Forces], Ilya Uvarov, who said he had already studied a big number of documents and had understood that really very much controversy has accumulated in this job because the Moldovan side often blocks JCC meetings, so there are many unsigned documents waiting their time.

"So, little by little we will be overcoming this situation by communicating and harmonizing our positions", said the Russian Co-Chairman.
Wow quite a lot of excellent material. https://bucketlist.org/idea/6LiG/ideas-to-assist-properly-deal-with-nervousness/