TIRASPOL OFFICIALS COMPLAIN TO CoE COMMISSIONER ABOUT VIOLATION OF TRANSNISTRIANS' RIGHTS BY MOLDOVA
13 octomber, 2017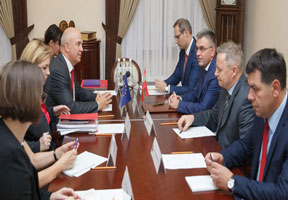 Moldova violates Transnistria's and its residents' rights to the freedom of movement and of external economic activities, the leaders of the unrecognized Transnistrian Moldovan Republic (PMR) stated here on Thursday in the course of their meeting with a Council of Europe delegation led by CoE Commissioner for Human Rights Nils Muiznieks.

The guests were interested to learn how the rights of the people with limited possibilities are observed, how the local authorities struggle against family violence, how human rights are observed in Transnistrian penitentiary institutions and other questions.

According to the Transnistrian presidential website, president Vadim Krasnoselsky said that human rights observance is a topic important for Transnistria, and stressed that "in a state where everybody obeys the law – from the president to a rank and file citizen – instances of human rights violation are practically out of the question", and then added that isolated facts of human right violations can be observed in the relationship between Transnistria and Moldova.

Transnistria's Chief Negotiator with Chisinau, minister of foreign affairs Vitaly Ignatiev developed the question further, saying that practically all Transnistria residents regularly suffer violation of their rights because Moldova uses a large number of restrictive measures against Transnistria. Among these he mentioned problems in the spheres of the freedom of movement of persons and road transport, academic mobility, politically motivated criminal prosecution of Transnistria residents in Moldova, and other.

As Ignatiev put it, "The Moldovan side's factual unpreparedness to resolving at the negotiating table of the existing complex of socio-economic problems is provoking the using of new blockade mechanisms against the Transnistrian republic and its citizens".

"People must not be hostages to political conflicts. From Your mission, like from the missions of Your predecessors, including Mr. Hammarberg and other colleagues, we traditionally wait assistance in bettering the situation in what concerns the ensuring of Transnistrians' human rights", said Vitaly Ignatiev.

The Transnistrian side presented information about the state measures of social support, modernization of legal frames, and the current practices of ensuring a proper level of living standards by using international standards. In particular, the interlocutors touched on certain aspects of raising the quality of medical assistance and the social integration of persons with limited possibilities.

Transnistrian human rights ombudsman Vyacheslav Kosinskii stated that the Transnistrian authorities are open to dialog and stand ready to work for raising the level of protection of human rights.