PSRM BEGINS ITS CANVASSING CAMPAIGN FOR CHISINAU MUNICIPAL REFERENDUM
17 octomber, 2017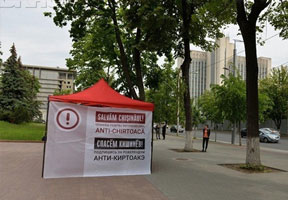 The Party of Socialists has embarked on its canvassing campaign in the run-up to the November 19 municipal referendum for dismissing incumbent Chisinau Mayor Dorin Chirtoaca. The PSRM press service wrote in its news release on Monday that tens of tents have been set up in various parts of Chisinau where citizens can receive the newspaper "Referendum" and all necessary information about the forthcoming event.

"Only during the first three days following the registration of the PSRM as a referendum campaign participant on October 12, our activists had already distributed several thousand newspaper copies. Hundreds of volunteer canvassers have started the explanatory work in the city. Last weekend, they visited three hundred residential-community yards and apartment houses, where they communicated with dwellers and answered their questions", said the press release.

The Socialists are accusing Mayor Dorin Chirtoaca, who has been ruling the city since 2007, of corruption, embezzlement of public property, negligence and dilettantism, and are calling Chisinau citizens not to be indifferent to the fate of their native city.

As already reported by Infotag, the Party of Socialists, headed by Igor Dodon before his election as President of Moldova, raised 80 thousand citizens' signatures in favor of holding a municipal referendum for dismissing the inefficient Liberal mayor - considerably more than the law-stipulated 64 thousand i.e. 10% voters residing in the city.

To be officially admitted to the canvassing campaign in the run-up to the referendum, willing political parties must get registered with the Central Election Commission. Until now, only the Party of Socialists has done this. The Communist Party has stated participation but has not yet got registered. The ruling Democratic Party and several more influential organizations have stated their boycotting the referendum or their being neutral to the enterprise.

To be recognized as valid, a Chisinau municipal referendum must have a voter turnout of minimum one-third of voters i.e. nearly 220 thousand citizens. To discharge Mayor Chirtoaca, the idea has to be supported by minimum 164 thousand citizens, i.e. by more than what Chirtoaca received at the 2015 elections.