DP WILL INTRODUCE MORATORIUM ON SCHOOL CLOSING – VLAD PLAHOTNIUC
18 octomber, 2017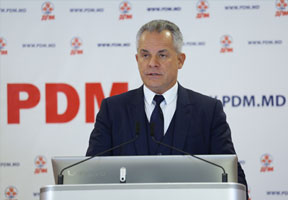 The ruling Democratic Party of Moldova is going to introduce a moratorium on closing of schools until an alternative solution is found, said party chairman Vlad Plahotniuc at the Tuesday's briefing after the DP leadership sitting.

He reminded that the closing of schools was the idea of those, who were administrating the sphere of education in the previous Government [Party of Action and Solidarity (PAS) leader, ex-Minister of Education Maia Sandu].

"Many people addressed to the DP, as well as personally to me and my colleagues with complaints about what is happening after school closing. In this connections, we asked the Ministry of Education, Culture and Researches to conduct and present an analysis of the situation to decide on further actions", the politician said.

According to him, any reform or optimization should have a human face, as well as should be based on citizens' needs and social realities – otherwise unpardonable mistakes may occur.

The ruling coalition coordinator confessed that the reform in education was conducted with mistakes and led to dramatic consequences for dozens of localities. It influenced too many children and their parents, as well as teachers, a part of which lost their jobs.

"We cannot say that there was no need of reform, but we have big questions to the strategy and the method of its implementing", Plahotniuc said.

He also said that the party is receiving complaints about a big volume of work teachers are forced to do besides the teaching activities. This bureaucratization is damaging the quality of teachers' preparedness for lessons.

"We support the idea that teachers should undergo attestation, as well as we stand for raising of the skills of didactic personnel in educational institutions, but we cannot stand the bureaucratization, which takes teachers' time. In this context, we will propose simplifying teachers' duties and will leave only the most basic, in order that they to have more time for preparing for communication with students, but not to spend it on reports and assessments", the politician said.

Plahotniuc also said that besides additional burden on teachers, they were also obliged to pay for advanced training courses, which is unacceptable. While the Government is looking for the possibilities for raising salaries to teachers, the DP will engage in resolving of problems with unjustified charges.

As Infotag has already reported, the optimization of pre-university educational institutions was started several years ago by the ruling pro-European coalition DP was part of. During the campaign, hundreds of schools were closed. The oppositional Party of Socialists and the Communist Party stood against this. Now, in the run-up to parliamentary elections, the DP undertook their ideas, using this for criticizing PAS leader Maia Sandu, who had headed the Ministry of Education until 2015.