GRIGORIOPOL STUDENTS AND TEACHERS PROTEST IN FRONT OF RUSSIAN EMBASSY IN CHISINAU
20 octomber, 2017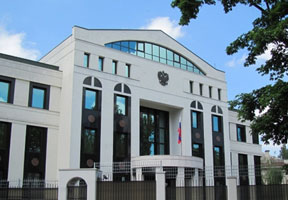 Human right association Promo-Lex organized a rally in front of the Russian Embassy to Moldova in Chisinau on Thursday.

The action gathered students and teachers from Steven the Great lyceum in Grigoriopol (Transnistria), who were protesting against the violation of their right to study and teach in Romanian.

According to lyceum director Eleonora Cercavschi, today it has been 5 years since the European Court of Human Rights (ECHR) issued the decision on free access to education in Romanian language for schoolchildren in Transnistria, which is their fundamental right.

According to her, despite this decision, region's authorities refuse to fulfill it, imposing the teaching Moldovan language on the basis of Cyrillic alphabet.

Lyceum students stated that the need to learn in Romanian is due to the fact that after graduation, they have to continue their studies in Moldovan universities, which is almost impossible without good knowledge of the state language.

Five years ago, the ECHR issued a decision on three cases, in which 170 teachers, schoolchildren and parents from three eight Latin-script Moldova-administered schools in Transnistria were plaintiffs. The European court obliged Russia to repay a compensation of 6 thousand euros to each plaintiff within three months and to ensure them the right to study in their mother tongue. The decision has not been fulfilled so far.