5+2 FORMAT MEETING MAY TAKE PLACE IN A MONTH
31 octomber, 2017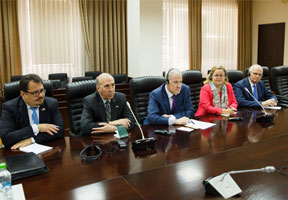 A meeting in the 5+2 negotiating format may be organized at the end of November so as to determine an agenda for the forthcoming full-size negotiations, it was said in the Monday's meeting Moldovan Prime Minister Pavel Filip had with the representatives of the international mediators (the OSCE, the Russian Federation and Ukraine) and the observers (the European Union and the United States) taking part in the Transnistrian conflict settlement process.

According to the Moldovan governmental press service, the interlocutors discussed the Transnistria-related issues in the context of the forthcoming OSCE ministerial meeting in Vienna, and remarked in that connection that a possibility seems to be appearing for the organization of a 5+2 format meeting as well.

Among positive moments they mentioned the achievement of a consensus on the re-opening of the bridge across the Dniester River near the villages of Bicioc and Gura Bicului for traffic, the apostilling in Moldova of education diplomas issued in Transnistria.

"We are interested to create conditions for the Transnistrian youth to continue their education anywhere, including in European Union countries", said Premier Filip.

The interlocutors mentioned also progress achieved in the sphere of registration of motor vehicles from Transnistria and their license plates, provision of direct stationary telephone communication between the Dniester River banks, and the railroad transportation of people and freights via Transnistria.

Among negotiation agenda priorities the parties indicated the need to ensure a normal functioning of the Latin-script Moldova-administered schools in Transnistria, the need to ensure for Moldovan peasants in the Dubasari Raion a free access to their private farm lands situated in Transnistria-controlled territories, provision of free movement of persons and cargoes between the Dniester sides.