SOME PUBLIC FIGURES IN TRANSNISTRIA ARE DISINTERESTED IN NEGOTIATIONS WITH MOLDOVA – PRESIDENT DODON
01 november, 2017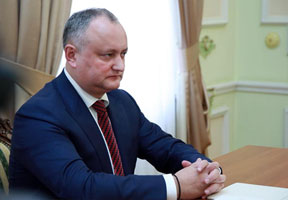 Moldovan President Igor Dodon maintains that there are politicians and people of business in Transnistria who are not interested in resuming negotiations with Moldova.

In his interview with Russia's official news agency TASS, Dodon said that their aim and strategy is to aggravate tension and constantly appeal to Moscow for help, including financial one.

Dodon called this line as very shortsighted one and baneful for the residents of both Dniester River sides.

"Transnistrian settlement questions must be negotiated with the one elected by the Moldovan people, the one having a clear perspective. If somebody wants to discuss some smuggling scheme – this question is not to me", said Igor Dodon and referred to a recent example of his personal assistance to improve the importation of electricity to mainland Moldova from the Moldavskaya power plant [in Transnistria, the Republic of Moldova's largest energy producer].

Touching on the Transnistrian conflict settlement, the Moldovan President said its formula has already been determined and fixed in numerous documents that were signed by the international mediators and guarantors of the settlement – the OSCE, the Russian Federation and Ukraine, as well as by the observers – the European Union and the United States.

"In those documents, the Transnistrian region has been defined as a Republic of Moldova's part provided with a special legal status. Now we have to agree upon division of plenary powers in a united country. In this delicate matter, you cannot solve anything by using pressure: Transnistria is home to nearly 200 thousand citizens of Russia, and Moscow will not indeed leave them unprotected", said Igor Dodon.

In his words, it is necessary to wait until when Russia and the West agree to demonstrate a 'success story' in Moldova.

"I hope that in 2-3 years, such a "geopolitical window' will appear. It is important for us to save peace, build up cooperation between the Dniester banks. For this, we must form, after the 2018 election, a pro-Moldova majority in the Parliament that would be working for preserving the country's neutrality, would be standing against unification with Romania and against integration into NATO, which all is being forced by our incumbent government under Western pressure", said Dodon.

The President stressed that although a majority of Moldovans are against their country's accession to NATO, the pro-Western government is looking forward to opening a NATO Liaison Office in Chisinau "to impose on citizens an idea that there is allegedly nothing terrible in this".