AUSTRIA MUST CONVOKE 5+2 NEGOTIATION ROUND - RUSSIAN DEPUTY FOREIGN MINISTER
03 november, 2017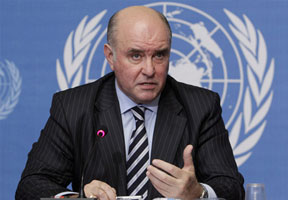 Russian Deputy Minister of Foreign Affairs Grigory Karasin believes the incumbent Austrian OSCE Presidency must convoke, before the end of the current year, a full-fledged round of negotiations on Transnistrian conflict settlement in the 5+2 format.

Karasin stated in his interview with the Russian Government's official newspaper Izvestia that Moscow is calling to organize such meeting so that "not to let the situation in that region reach a boiling point".

"We reiterate the expediency of soonest-possible resumption of official 5+2 meetings. If the format agrees to assemble before the end of 2017, we will be promoting its efficiency to the utmost of our possibilities. It is not quite clear why the Austrian OSCE Presidency is marking time, saying that each official 5+2 meeting must be crowned with the signing of considerable accords between Chisinau and Tiraspol. This is decelerating the process and is even sharpening the situation. We need to have a tactics of practical steps, otherwise the job will get stuck in endless debates", said Grigory Karasin.

In his words, for many months on end Moscow has been consistently raising the question of the immediate holding of a 5+2 meeting, and "It is precisely in such a meeting that Chisinau and Tiraspol must negotiate problems and move forward, by fixing accords reached on concrete topics".

With reference to the Russian Ministry of Foreign Affairs, Izvestia is writing that the main topics of discussion at the negotiations will be the unfolding of joint Moldova-Ukraine border control facilities on the Transnistrian segment of the Moldova-Ukraine border and the question of withdrawal of Russian peacekeepers from Transnistria, as is being strongly demanded by the Moldovan Parliament.

"Many experts presume that the problems, accumulated in the Chisinau-Tiraspol relationship, may trigger a forcible solution of the conflict", wrote the Russian publication.