CHISINAU AND TIRASPOL AGREE ON TRAFFIC RESUMPTION ON GURA BICULUI BRIDGE
03 november, 2017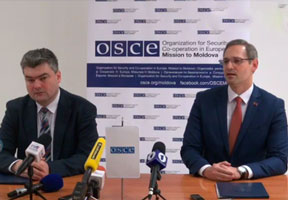 On November 20, Chisinau and Tiraspol will resume automobile traffic on the Gura Bicului Bridge across the Dniester River that was ruined 25 years ago during the Transnistrian armed conflict.

A protocol agreement on this was signed on Friday in Chisinau by the sides' Political Representatives at the talks – Moldova's Deputy Prime Minister for Country Reintegration Gheorghe Balan and Transnistrian minister of foreign affairs Vitaly Ignatiev.

The host of the remarkable event – Ambassador Michael Scanlan, the Head of the OSCE Mission to Moldova – called the Protocol signature a historic step. The diplomat expressed hope that this first step on the way to achieving accords on many problems will not be the last one.

"We have seen today that the sides are able to reach accords for the good of each other", said the American diplomat.

Vitaly Ignatiev emphasized that the bridge will be re-opened by the sides with mutual guarantees that it will be never used for military purposes.

"We are making a very important step in our interaction, and I hope it will not be the last one. I thank our colleagues from Russia and Ukraine and our Western partners. The Bridge is an important link, and is a part of the 9th Pan-European Transport Corridor", explained the Transnistrian foreign minister.

Gheorghe Balan said that in the 2 weeks remaining until the bridge opening, all technical matters will be handled by profiled specialists.

"The Gura Bicului Bridge was repaired in 2000 with the financial assistance of European partners, but had not been used since then. The object will now on be under specialists' constant control. We need to agree upon necessary expenditures, and to solve all issues with the Joint Control Commission (JCC, the supervisory body for the Joint Peacekeeping Forces, JPF) because the bridge is situated in the Transnistria Security Zone. The peacekeeping posts, unfolded on both sides of the Dniester, will remain where they now are. On November 20, upon the settlement of all technical moments, cars and trucks will start moving there, as well as human movement", said Gheorghe Balan.