MOLDOVAN PRESIDENT COUNTS ON ITALY'S ASSISTANCE IN TRANSNISTRIAN CONFLICT SETTLEMENT
07 november, 2017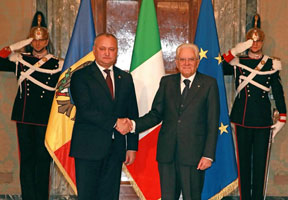 Moldovan President Igor Dodon says he is strongly counting on Italy's assistance to settling the protracted Transnistrian conflict, he wrote on his Facebook page, commenting on the results of the meeting he had with President of the Italian Republic Sergio Mattarella in Rome on Monday.

"I welcomed the fact that Italy will receive the OSCE Presidency in 2018. We in Chisinau will be supporting the Italian Presidency's efforts, in particular on settling regional conflicts. We are counting on Italy to remain one of Moldova's key partners in the sphere of resolving the Transnistrian question. We are convinced the Organization for Security and Cooperation in Europe must remain one of the main guarantors of peace and security in Europe", wrote Igor Dodon.

He expressed hope that under the Italian OSCE Presidency, the year 2018 will see new rounds of 5+2 format negotiations, and that Italian Minister of Foreign Affairs Angelino Alfano will visit Moldova as Acting President of the OSCE.

Igor Dodon expressed satisfaction over the successful development of trade and economic relations between the Republic of Moldova and the Italian Republic.

"By the volume of trade, Italy is now ranking the third among Moldova's trade partners, accounting for nearly 8% Moldova's total trade. And Italy is standing on the 2nd place by the volume of investment in the Moldovan economy. There are 1,350 enterprises with Italian capitals working in spheres like banking, software development, leather production and processing, iron processing for construction etc. This cooperation creates jobs in Moldova", wrote President Dodon.

In his opinion, a considerable factor of consolidation of the Moldo-Italian relations is the activity of the Moldovan ethnic community in Italy.

"In 2017, the Moldovan community became the 8th largest one among foreign communities in Italy. We are glad that our compatriots in Italy are so united and have such a high integration with the Italian society. According to the ISTAT data, by the level of employment Moldovans are the 5th largest national community in Italy, with 54% employed people. Nearly 400 medical doctors from Moldova have defended their university diplomas in Italy", wrote Dodon.

He addressed to President Sergio Mattarella with a request to help resolve the problems Moldovans come across in Italy, in particular to sign an inter-governmental agreements on pension insurance, social protection, recognition of university diplomas etc.
Ma Dodon. Puneti niste cisme mari pe picioare si dai un sut in fund la rusii din stanga nistrului. Apoi du-te si tu in Rusia ca acolo ti-e inima. Rusia nu are nimic bun pentru Moldova, numai amenintari. Vrei sa fii sclavul lui Putin? Du-te la el si lasa Moldova in pace sa isi aleaga destinul ei.