EUROPEAN UNION WELCOMES ACCORD ON RESTARTING TRAFFIC ON RESTORED BRIDGE ACROSS THE DNIESTER
08 november, 2017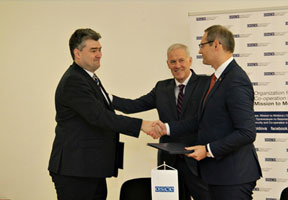 The European Union has welcomed the accord reached between Chisinau and Tiraspol to resume traffic on the bridge across the Dniester River between the villages of Gura Bicului and Bicioc.

The EU wrote in its Statement that the signing of the Protocol Decision on the opening of the Gura Bicului/Bicioc Bridge will ensure wider possibilities for promoting the movement of persons, motor vehicles and goods, for promoting business activities on both Dniester sides and wider in the region.

The European Union particularly underlined the important work done by the incumbent Austrian OSCE Presidency and by the OSCE Mission to Moldova.

The document authors believe that now it is important to achieve realization of this decision in conformity with the accord reached between the sides, and the European Union stands ready to support it as is only possible. The EU thus will promote further steps in the 5+2 negotiating format, and will continue its active work in the Transnistrian conflict settlement negotiations, with a hope for a 5+2 format meeting in the nearest future.

Last week, the chief negotiators of Chisinau and Tiraspol signed a Protocol Decision on reopening the Gura Bicului/Bicioc Bridge and on resuming traffic on it starting from November 20.

As was already reported by Infotag, the bridge was critically damaged during the 1992 Transnistrian armed conflict. The object is an essential element of the M-14 highway, which is a part to the 9th Pan-European Transport Corridor. The member countries of the European Union and the Commonwealth of Independent States (CIS) are strongly interested to have the Corridor working efficiently.

In the early 2000s, the bridge was repaired with foreign partners' assistance, but the automobile traffic on it has not been resumed until now - through Tiraspol's fault: Tiraspol is conditioning the traffic opening with an official recognition of Transnistrian license plates by Chisinau and with obtaining international guarantees that Chisinau shall never use the bridge for military purposes, though the sides had agreed upon the latter condition yet in 1998.