TRANSNISTRIA NOT GOING TO EVEN DISCUSS RUSSIAN TROOPS REMOVAL
10 november, 2017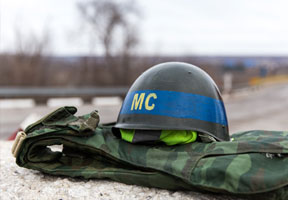 The issue of Russian peacekeepers' removal from the region is not even a topic of discussion for Transnistrians, said president of the unrecognized Transnistrian Moldovan republic (PMR) Vadim Krasnoselsky in the interview to Moskovskii Komsomolets.

He explained this with the fact that over 25 years of peacekeeping operation on the Dniester River, Russia had proved its efficiency as the main peacekeeper.

The Tiraspol leader reminded that besides the Russian military, the Moldovan and Transnistrian corps, as well as 10 supervisors from Ukraine participate in the operation – that is all the sides are involved in the peacekeeping process.

"This form of successful peacekeeping should be studied to use in other conflict zones. I can see a great positive effect from the peacekeeping operation on the Dniester River. I am sure that the removal of Russian peacekeepers is a way to conflict escalation, or maybe even war. We are stable and consistent in our position and clearly stand for preserving the peacekeeping mission in its current format. This is the opinion of our people", he stressed.

Krasnoselsky has again criticized Chisinau and Kiev's decision on joint control on the Transnistrian section of Moldovan-Ukrainian border, maintaining that only the position of Transnistria and negotiation process guarantors, first of all Russia, may prevent this.

"Here, the rights of Transnistrian citizens and the earlier agreements are violated. The sides signed agreements on free movement of citizens. Of course, we will keep working, we will demand discussion of this issue at negotiations in the 5+2 format", he stressed.

According to him, Transnistria should build its relations with Ukraine.

"This is an objective need. Unfortunately, we became hostages of the situation between Ukraine and Russia. Some Moldovan politicians are trying to put us in the same line with the Donetsk and Lugansk unrecognized republics and set Ukraine against us. This is not correct. In Transnistria there is a great Diaspora of ethnic Ukrainians – around 100 thousand Ukrainian citizens. We have traditionally had good relations with this state, we want to preserve it. Besides, Ukraine is a guarantor of negotiation process, as well as Russia. 10 of its representatives are participants of peacekeeping operation. Thus the dialog is very important", the head of Transnistria said.