5+2 NEGOTIATION ROUND TO TAKE PLACE IN VIENNA ON NOVEMBER 27-28 – BALAN
15 november, 2017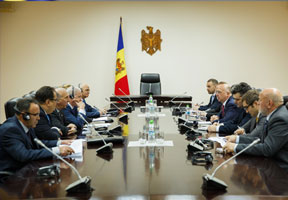 The next ordinary round of the Transnistrian conflict settlement negotiations will be held in the format of 5+2 in Vienna, Moldova's Special Representative for the Transnistria negotiations, Deputy Prime Minister for Country Reintegration Gheorghe Balan announced on Wednesday.

According to him, the invitation came from the Austrian OSCE Presidency. All the participants in the 5+2 negotiating format [Moldova and Transnistria as the conflict sides, Russia, Ukraine and the OSCE as international mediators (5); and the European Union and the United States as international observers (2)] supported the negotiation resumption idea yet in the course of various consultations held earlier.

"In the remaining days, the stakeholders will submit proposals concerning the agenda of the forthcoming talks. These questions have been discussed during previous consultations, and all the parties supported the discussion of questions in the Berlin+ package that includes several questions each from Chisinau and Tiraspol", said Gheorghe Balan.

As was already reported by Infotag, the 5+2 format negotiations have not been held since April 2014. In June 2016, the German OSCE Presidency organized in Berlin an informal meeting of the 7 negotiation parties, at which a Protocol was worked out that included a number of Tiraspol's demands. It was decided then that upon fulfillment of the Protocol, the regular 5+2 work would be resumed. However, the Berlin Protocol failed to be fulfilled, and the 5+2 format players have not met since then.

In 2017, the Berlin Protocol was supplemented with several Chisinau's conditions, due to which a Berlin+ package was formed. It includes 4 problems each from Chisinau and Tiraspol who are insisting on their solution. One of Chisinau's demands has already been fulfilled: at the 1+1 format meeting held in early November, Chisinau and Tiraspol decided to resume traffic on the Gura Bicului/Bicioc Bridge across the Dniester.