RUSSIA WILL CONTINUE BACKING POSITIVE INITIATIVES IN TRANSNISTRIAN CONFLICT SETTLEMENT - SERGEY GUBAREV
16 may, 2018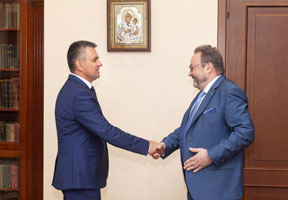 The Russian Federation stands ready to further render assistance to realization of positive achievements and initiatives in the Transnistrian conflict settlement process, President Putin's Special Envoy at the Transnistria negotiations, Russian Foreign Ministry Ambassador-at-Large Sergey Gubarev, stated in his meeting with Transnistria president Vadim Krasnoselsky here on Tuesday.

According to the Transnistrian presidential website, the Moscow diplomat highly assessed the practical results achieved in the Transnistria-Moldova dialog last few months, and highlighted particularly the fast reaching of a decision on such complicated a problem as the mechanism of participation of Transnistrian motor vehicles in the international road traffic.

In his words, the chief objective now is to ensure a prompt and failure-free realization of what has been fixed so nicely on the paper - like how the school question has been resolved and how the farmland using question in the Dubasari Raion is being settled.

The Russian Ambassador-at-Large underscored as a positive factor the systemic character of the Transnistria-Moldova interaction and the regularity of holding bilateral meetings. Sergey Gubarev reiterated the significance of the current discussion, in whose course the interlocutors can discuss essential questions related to the holding of the forthcoming 5+2 format official meeting.

Vadim Krasnoselsky said Transnistria highly appreciates the attention attached to the republic by the Russian Federation. He called as "significant and efficient" the personal participation of Ambassador-at Large Sergey Gubarev in the negotiation process.

Summing up the results of the meeting, the chief negotiator of the unrecognized Transnistrian republic [PMR], its minister of foreign affairs Vitaly Ignatiev underscored that the PMR and the Russian Federation have a distinct and largely coinciding understanding of the current situation.

"We are ready for the 5+2 format meeting in Rome. We believe this is an auxiliary mechanism that must be helpful for the dialog. We would like to have our interaction at all levels - from the profiled expert groups to the "Permanent Conference" [full name: "Permanent Conference for Political Questions in the Framework of the Negotiating Process on the Transnistrian Settlement in the 5+2 format"] - be productive and yielding concrete practical results", said Vitaly Ignatiev.