MOLDOVA PRESIDENT AND TRANSNISTRIA LEADER AGREE TO MAINTAIN PERMANENT DIALOG
07 september, 2018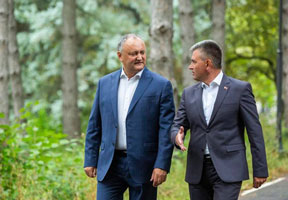 "The situation that has developed in the Transnistrian conflict settlement process requires attentively treating each other and maintaining a permanent dialog", Moldovan President Igor Dodon wrote in the social networks on Thursday, following his meeting with Transnistria president Vadim Krasnoselsky held in the Condrita countryside presidential residence of the Moldovan head of state.

"We continued discussing current issues on our agenda, and outlined certain topics for the future", wrote the Moldovan President.

According to him, the Sides have discussed in detail the realization of the "Eight-Item Package" that was agreed upon during the two officials' first meeting held in Bendery city on January 4, 2017.

"On 6 out of the 8 items, we have practically reached accords and determined steps to promote the solution of those problems that are faced by the residents and economic operators on both Dniester River sides. We have considered also some other questions of economic, social and environmental character. We have brought closer our positions on working out approaches to resolving the said questions", Igor Dodon wrote.

"We have reaffirmed the importance of the ongoing peacekeeping operation on the Dniester River as a guarantee of peace and security for citizens, and have agreed to make joint steps to prevent complications in the Transnistria Security Zone that could upset peace and stability not only in Moldova but in this whole region", wrote the President.

"We have agreed that it is necessary to continue our open dialog on various levels and platforms that would promote the establishment of trust between the residents of the Dniester sides", said the presidential post.

Dodon wrote: "We have agreed with Vadim Krasnoselsky that there may be no forbidden topics in our dialog".

"The skill of hearing each other's viewpoints promotes consolidation of trust, even if our positions on certain questions are seriously differing at the moment. Alongside with official contacts, an important factor promoting the progress of political settlement is the activity of public institutions on both river sides. From my part, I have proposed to jointly back the work of civil society organizations, associations and initiatives, whose efforts are aimed at overcoming available contradictions and differences on various issues of public significance", wrote the Moldovan President.