​TRANSNISTRIAN LEADER SPEAKS OF MOLDOVAN GOVERNING COALITION PERSPECTIVES
25 march, 2019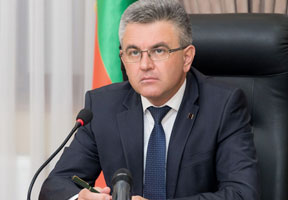 The three major political forces that have won seats in the new Parliament of Moldova will inevitably have to get united into coalitions for the sake of Government forming and of avoiding a new election, believes Transnistria president Vadim Krasnoselsky.
Speaking on the Transnistrian central television, Krasnoselsky offered an opinion that on their way to the Parliament, these three parties have committed one big mistake: all of them have quarreled bitterly with one another.

"They have reverted to name-calling, and therefore it will now be very hard for them to achieve compromises, for all of them will have to step over oneself, violate accords and promises given to somebody in the past. And a snap election is not a way out. OK, you hold a new election, say, next September and the result will be the same. Then one more election will be needed, and one more… Needless to explain what financial a load it is on the budget. Besides this, people get tired of repeated voting, and eventually they will simply stop going to the polls. Therefore, it is necessary to pull yourself together, switch on your will, show your patriotism and respect for your Motherland, and make a choice. What choice? Well, it's up to our neighbors [Moldova] to decide. We will accept any their choice. In a word, to avoid aggravation of the political crisis, it is necessary to achieve a mutual understanding", said the Transnistria leader.

Touching on the two independent deputies elected to the Moldovan Parliament from Transnistria, Krasnoselsky exclaimed indignantly: "How can one call them Transnistria's representatives?!"

"Stuff and nonsense. They are neither citizens nor even residents of Transnistria. They have never had and will never have whatever relation to us. They will be representing the party whose interests they are lobbying, or will be representing their precious selves. We can't see whatever interaction with them now or in the future. It is just ridiculous. Let them work in the Parliament and take decisions for the good of their state – the Republic of Moldova. And Transnistria is so far from them", said Vadim Krasnoselsky.