​OSCE MISSION HEAD WELCOMES PMR AUTHORITIES' WAIVER CONCERNING VARNITA
14 may, 2019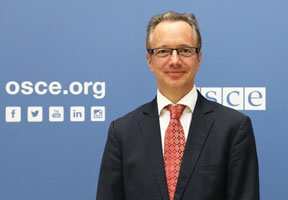 Head of the OSCE Mission to Moldova Claus Neukirch welcomed the decision of Transnistria's leadership to cancel the Order #18 which concerns the Varnita village.
According to the OSCE Mission's press release, he maintains this decision will allow the sides to preserve the trust that has been built over the recent years in the process of settlement.

"The OSCE maintains the situation around Varnita should become an example of an efficient cooperation and ensuring freedom of movement for the benefit of population. The constructive discussion of various issues, connected with resolving of problems of this Chisinau-controlled village and its residents, who have close connections with Transnistria, was very useful for promoting the process of settlement", the diplomat stressed.

He reminded that at the meeting of OSCE Ministerial Council in Milan in December 2018, 75 member countries again confirmed their adherence to the comprehensive, peaceful and sustainable settlement of the Transnistrian conflict on the basis of Moldova's sovereignty and territorial integrity within its internationally-recognized borders with a special status for Transnistria, which will completely guarantee human rights, political, economic and social rights of its population.

"For the sides it is highly important to remain in line with pragmatic solutions and constructive interaction, which recently was demonstrated by the Moldovan side in relation to the Moldovan metallurgical plant (MMZ) in Transnistria", Neukirch added.

As Infotag has already reported, in January president of the unrecognized Transnistrian Moldovan republic (PMR) Vadim Krasnoselsky signed an order according to which in the village of Varnita, located in the territory, temporary controlled by Moldova, where no council of national deputies or head of village administration were elected, their functions are implemented by Protyagailovca village council of national deputies and its administration.

Moldovan authorities regarded this as provocation and since then were fighting to achieve canceling of this decision. Varnita is located on the right side of the Dniester River and administratively is subjected to Moldovan central authorities. At the same time, Transnistria's administration regards the village as a part of the micro-raion "Severnii" of the Bender city, which is also located on the Dniester right side, but is a part of Transnistria.

So far, the Transnistrian leader's website says nothing about any order to cancel the order #18 (dated January 25) concerning the Varnita Village, neither local media outlets say anything about this topic.