​DEPUTY PREMIER LESNIC AGAIN ASKS OSCE MISSION TO HELP RESOLVE PROBLEMS IN SECURITY ZONE
21 may, 2019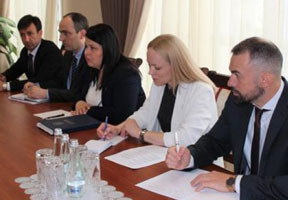 Moldova's Special Representative for Transnistria negotiations, Deputy Prime Minister for Country Reintegration Cristina Lesnic has called on the OSCE Mission to Moldova, as an international mediator to the Transnistria negotiation process, to join the work to find ways to resolving problems in the Transnistria Security Zone.
According to Moldova's National Bureau for Country Reintegration, Cristina Lesnic said this during her Monday's meeting with Ambassador Claus Neukirch, the Head of the OSCE Mission to Moldova, during which the interlocutors discussed a broad spectrum of questions on the Transnistria problem and the last week's trips to Latin-script Moldova-administered schools in Transnistria and to the village of Varnita in the Anenii Noi Raion, situated across the road to the Transnistria-controlled city of Bendery.

They discussed also the activities of the sides' profiled working groups of experts and questions of the organization of a possible soon-to-be visit to be paid to Moldova by international mediators and observers working within the 5+2 negotiating format.

Cristina Lesnic last met with Claus Neukirch as recently as May 16, and then she also said that the OSCE should promote more actively the resolution of the problems continuing to exist in the Security Zone. She stressed the need for the Organization's constant attention to the new problems created by Tiraspol. For instance, Transnistrian power structures illicitly collect payments – the so-called vignettes – from motor vehicles having Moldovan license plates.

The Deputy Prime Minister pointed out also that Tiraspol puts obstacles to the free movement of persons in the eastern Moldovan raions [Transnistria], that Moldovan officials would not be permitted to freely enter the Transnistrian region and travel in it, and she asked the OSCE's assistance in organizing an expert examination of the Gura Bicului/Bicioc Bridge across the Dniester.