​WOMAN TO STAND TRANSNISTRIAN COURT FOR TWICE RAMMING BORDER TURNPIKES
27 may, 2019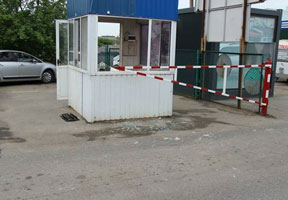 The Transnistrian authorities are going to bring to court the woman who twice rammed border turnpikes on her Ssang Yong SUV – first when she illegally entered the Transnistrian region from the Ukrainian territory, and some time later – when she tried to leave Transnistria.
According to the Transnistrian ministry of state security, the first incident happened last Saturday night at the Pervomaisk border-crossing station, where the lady, driving her SUV with Ukrainian license plates, rushed from the Ukrainian territory into Transnistria, violating border crossing rules and order, touching the turnpike and injuring the officer who was standing near it.

Some time before, she crossed the border in an analogous manner at the Ukrainian border-crossing station Cuciurgan-Auto. The regional border police dashed after her and caught the woman, who turned out to be born and raised in Transnistria. She was brought to stand administrative responsibility and was fined.

However, already several hours later, she undertook the second attempt to break through the border heading back to Ukraine. She smashed away the turnpike and drove at a high speed towards Cuciurgan-Auto station, where she was detained by the Ukrainian law enforcement, who escorted her back into the hands of Transnistrian colleagues. Now the woman is in Transnistria, waiting for a trial.