DMITRY KOZAK VISITING TRANSNISTRIA
04 june, 2019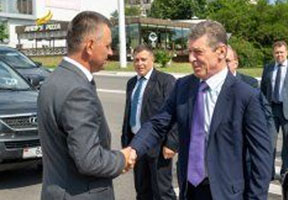 On Tuesday morning, Russian Deputy Prime Minister Dmitry Kozak went to Tiraspol, where he is discussing questions of Transnistrian conflict settlement, resumption of the 5+2 format negotiations that have not been held since last autumn, and the problems of trade and economic cooperation with the region.

Nobody from the Russian Federation leadership or Government has visited Tiraspol since early 2016, when President Putin's Special Representative on Transnistria was Russian Deputy Prime Minister Dmitry Rogozin.

This is Kozak's first visit to Chisinau and Tiraspol since he was appointed as
President Putin's Special Representative for the development of trade and economic relations with the Republic of Moldova in July 2018, when the post of Presidential Special Representative on Transnistria was abolished.

Questions of the Transnistrian conflict settlement were discussed by Dmitry Kozak also in Chisinau on Monday, as was described in the Facebook by President Igor Dodon, who made certain additions to his statements heard earlier that day during his joint press briefing with Dmitry Kozak.

Dodon wrote, "In the course of our meeting, we attached a particular attention to the state of things in the Transnistrian conflict settlement, exchanged opinions on bringing the negotiation process onto a new qualitative level on the basis of a policy of trust-building and observance of the principles of the Republic of Moldova's sovereignty and territorial integrity".

The President reported that on Monday the sides discussed also the parameters of a new contract on the supply of Russian natural gas to Moldova starting from January 1, 2020.

On Tuesday evening, Dmitry Kozak will return to Chisinau and will hold a final meeting with President Igor Dodon.