OSCE STANDS READY TO HELP REMOVE AMMUNITION FROM TRANSNISTRIA – SECRETARY GENERAL GREMINGER
20 september, 2019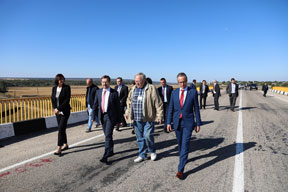 The Organization for Security and Cooperation in Europe stands ready to render its assistance to removal of ammunition and armaments stored at the Cobasna depot in Transnistria, Secretary General Thomas Greminger stated at the final news conference in Chisinau on Thursday.

Greminger commended as promising the renewal of a military dialog between the Republic of Moldova and the Russian Federation on the removal of ammunition and armaments from Cobasna.

"The OSCE is mandated to ensure the transparency of this process and to co-ordinate financial and technical assistance offered to this end," said the Secretary General. "The OSCE stands ready to bring in international, independent evaluators to verify the state of ammunition in Cobasna if required."

The diplomat underscored that a first step to this has to be made by Moldova and Russia.

The question of ammunition removal from Transnistria was raised in earnest by Russian Minister of Defense Sergey Shoigu during his visit to Moldova in August. The idea was supported by John Bolton, then-Assistant to the U.S. President for National Security Affairs, who stressed his country's preparedness to support that process. The ammunition question was discussed also between Moldova's Minister of Foreign Affairs and European Integration Nicolae Popescu and Russian Minister of Foreign Affairs Sergey Lavrov in Moscow recently. Lavrov said that only preparation to such evacuation should take over one year, and the success of the evacuation proper will depend on the countries' bilateral cooperation in the military sphere.