MGRES TO BE OBLIGED TO SELL 95% OF FOREIGN EXCHANGE EARNINGS IN US DOLLARS
24 september, 2019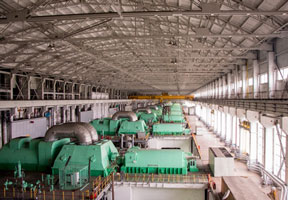 Transnistria president Vadim Krasnoselsky came out with a legislative initiative in connection with the access restriction of Transnistrian banks to the Moldovan foreign exchange market, and offered the Supreme Soviet to consider it in the mode of legislative necessity until September 26.

The Transnistrian president proposes to change the Law on some additional state measures aimed at minimizing the negative impact of external economic factors so that the electric energy exporters to carry out mandatory sale of 95% of foreign exchange current in the Transnistrian reserve in US dollars, regardless of the currency in which the revenue is received. At the same time, it is planned to increase the term of issuing an order for the mandatory sale of foreign currency earnings from two to seven working days.

The Moldavskaya GRES is the only exporter of electricity. It belongs to the Russian Inter RAO Company. It exports only to Moldova and accounts for about 22% of the total exports of goods from the region, which has an impact on the state of the Transnistrian internal currency market through the receipt of foreign exchange earnings denominated in MDL.

According to the author of the initiative, access restriction of the Transnistrian economic agents and banks on the currency market of Moldova poses a threat to the achievement of main objectives of the monetary policy of the Transnistrian Central Bank.

Infotag's dossier: If the draft law is accepted, the Moldavskaya GRES will probably require Moldova to pay for the supplied electric energy not in lei but in US dollars. This is unprofitable for Moldova and the country faces loses from conversion. This practice existed previously, which led to the accumulation of Moldova's debt for the electric energy from Transnistria. Moldova's capacity can produce only a quarter of the consumed electricity. The rest is imported mainly from the Moldavskaya GRES and Ukraine.

Highly likely, the initiative has been taken in response to the "blocking of bank accounts of Transnistrian enterprises by the Moldovan banks, which is considered by Krasnoselsky as a new political pressure on Transnistria. The Moldovan authorities and the leadership of the National Bank of Moldova deny the political background, claiming that the accounts of only two Transnistrian enterprises have been closed for legitimate reasons.