PSRM FACTION STANDS FOR ADOPTING DRAFT LAWS ON GAGAUZ AUTONOMY – PRESIDENT
15 octomber, 2019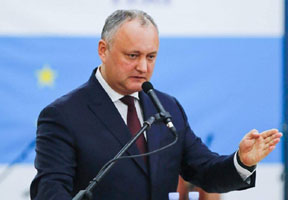 At the next Parliament sitting the faction of pro-presidential Party of Socialists will propose an initiative on adopting a package of draft laws that concern the Gagauz autonomy, wrote President Igor Dodon on his Facebook page, speaking about the trip to the Gagauz autonomy on Monday.
"We discussed the current issues of autonomy development, pointed at successful implementation of a number of important social and humanitarian projects, analyzed plans of further development of the region. Separately, we discussed the preparation for celebrating the 25th anniversary of the adoption of the Law on Special Legal Status of Gagauzia (Gagauz-Yeri) by the Moldovan Parliament. Besides, we talked about the adoption by the Parliament of three draft laws on Gagauzia, directed to harmonizing the republican and regional legislation", Dodon said.

According to him, Gagauzia Bashkan [governor] Irina Vlah proposed to hold a sitting of a working group made of members of the Moldovan Parliament and the Gagauzia Popular Assembly to prepare the adoption of the three bills.

Also, the Gagauz leadership discussed the issue of adopting the package of laws that concern the powers and the status of the autonomy with Prime Minister Maia Sandu, who visited Comrat last Saturday. She promised to hold a retreat sitting of the Government to discuss the problems accumulated in Gagauzia.

As Infotag has already reported, Gagauzia representatives insist on the adoption of laws, as well as international organizations in the face of the Council of Europe and the OSCE. Draft laws that imply the amending of legislative acts of the republic given the provisions of law on special status of the Gagauz autonomy were agreed by the joint working group of Moldovan and Gagauz legislature members.

However, at considering the bills in Moldovan standing committees, a lot of changes were made to papers, which were not agreed with representatives of the autonomy. In particular, the Moldovan Parliament declined Gagauzia's request for a separate level of public administration besides the administratively-territorial units of the first and second level. The Parliament replaced the notion "separate level" with "special status", which was already implied in the 1994 law. In July 2017 the Parliament adopted two laws in edited form, while the third was postponed for the Autumn-Winter session.

President Igor Dodon refused to promulgate the adopted laws and returned them to the Parliament for finalization. However, the MPs have not returned to consideration of this package of documents so far.