TIRASPOL LEADER STATES READINESS TO NEGOTIATE MOLDOVA'S INITIATIVES
25 octomber, 2019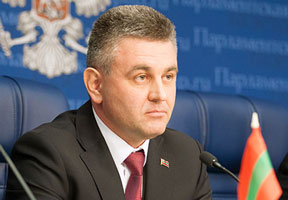 The president of the unrecognized Transnistrian Moldovan Republic (PMR), Vadim Krasnoselsky, stated that the Transnistrian side has already worked out the agenda of the next week's meeting with Moldova President Igor Dodon and that the questions included into it bear the humanitarian, social and economic characters.

According to him, many of these questions were remaining on the agendas of previous meetings, "preserving their importance and urgency and requiring solution".

"Among them are banking issues, questions of payments and accounts, of telecommunications, stopping of politically motivated criminal litigations, international communications, exports, imports and so forth. We will be raising and discussing them, and proposing solutions. And we are certainly ready to consider questions to be raised by the Moldovan side", said Krasnoselsky.

As was already reported by Infotag, since December 2016, when both of them assumed offices, Dodon and Krasnoselsky have held 5 meetings. Shortly after their election, in January 2017 they met in the Transnistrian city of Bendery, then in April – in Holercani [a picturesque locality on the right Dniester River bank, where a countryside presidential residence is situated]. After one-year-long pause, the two leaders met again in Bendery in April 2018. Then there were two meetings, in September and December 2018, in the Condrita countryside presidential residence situated in the namesake picturesque Chisinau suburban locality some 30 kilometers off the capital city. And this year's first meeting has been scheduled for October 29 in Holercani.