TIRASPOL SAYS CHISINAU IS CONTINUING ITS OLD DESTRUCTIVE NEGOTIATION LINE
02 december, 2019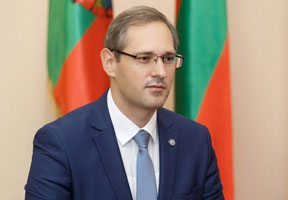 Judging by the first news conference of the new Moldovan Special Representative for Transnistria talks Alexandru Flenchea, Chisinau's old destructive negotiation line is being actively continued. That was how Transnistrian minister of foreign affairs Vitaly Ignatiev has commented the recent sayings by Moldovan Deputy Prime Minister for Country Reintegration Flenchea concerning the compromise variant of the Bratislava Protocol.

Ignatiev said that upon the change of the Moldovan Special Representative, some international partners were expecting positive changes not only in rhetoric but also in Chisinau's approach to the negotiation process, including normalization of relations with Transnistria.

"As we can see, the Moldovan side is not being particularly original. It uses a commonplace method of distorting the reality by giving out desirable for valid to justify its incapacity to fulfill its international commitments", said Ignatiev.

In his words, "The thing is, the Moldovan side is being obviously nervous, fussily inventing all possible pretexts and excuses to avoid signing the Berlin Protocol but to bear no responsibility for this".

"The draft Protocol as a whole is a balanced document. It contains certain provisions that are obviously interesting to the Moldovan side. For instance, it contains three out of the four priorities mentioned by Mr. Flenchea. Transnistria does not mind because they were discussed and formulations on them have been agreed upon. However now, one month later, it is just unwise and presumptuously to start inventing things in motion and to try to impose questions on Transnistria that were not discussed at the Bratislava or at any other talks [e.g. harmonization of the sides' tax standards]", said the Transnistrian chief negotiator.

In his words, Moldova "has somehow managed to oppose itself to all the rest negotiation players, clearly realizes this, but nevertheless is using all possible methods to evade responsibility".

"Nevertheless, Transnistria stands ready to give Moldova a chance to realize its mistakes and return to the negotiating table in constructive moods", said Vitaly Ignatiev.