FOREIGN MINISTER TO PRESENT MOLDOVA'S POSITION ON TRANSNISTRIAN CONFLICT SETTLEMENT AT OSCE MINISTERIAL COUNCIL MEETING
05 december, 2019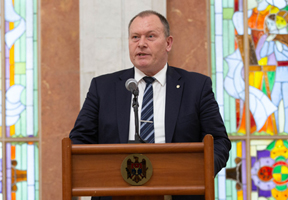 Moldova's Minister of Foreign Affairs and European Integration Aurel Ciocoi is taking part in the 26th Conference of the Ministerial Council of the Organization for Security and Cooperation in Europe that has begun in Bratislava, the capital of Slovakia presiding the OSCE this year.
Foreign ministers from 57 OSCE member states are discussing the events that occurred this year in the sphere of security, are exchanging opinions about the essential questions of the OSCE agenda in the fields of politics and defense, economic development, environment protection, humanitarian problems. A particular attention is being attached to the settlement of protracted conflicts in the OSCE area and to ways to consolidation of European security.

Aurel Ciocoi will present at the forum the Republic of Moldova's vision on these issues and the country's stance on the Transnistrian conflict settlement.

The Moldovan foreign minister's Bratislava work agenda includes a series of meetings at the level of foreign ministers in various cooperation formats (the Organization for Democracy and Economic Development GUAM, the European Union + Eastern Partnership) and several bilateral meetings with colleagues from other countries.

It was reported earlier that on the sidelines of this conference, there would be a meeting of the representatives of the 5+2 negotiating format [Moldova and Transnistria as the conflict sides, Russia, Ukraine and the OSCE as international mediators (5); and the European Union and the United States as international observers (2)], who were going to return to the question of signing the Protocol on the negotiation round held in Bratislava in early October.