​GAGAUZIA LEADERSHIP IS INTERESTED IN COOPERATION WITH EU – AUTONOMY GOVERNOR
15 january, 2020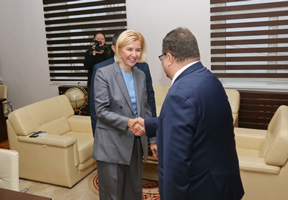 The Gagauz authorities are interested in cooperation with the European Union by means of its grant programs, stated autonomy Bashkan Irina Vlah at the Wednesday's meeting with Ambassador Peter Michalko, Head of the European Union Delegation to Moldova.
According to the autonomy head's press service, Vlah maintains that a unique formula of cooperation has been found between the sides.

"Due to EU grant programs and the contribution from the regional budget, large projects have been implemented in many localities, enterprises have been opened and jobs have been created. The Gagauz leadership is interested in continuation of such cooperation", the Bashkan said.

She express gratitude to the EU delegation head for cooperation, pointing at high efficiency of projects within the projects "Support for Agriculture and Rural Development in ATU Gagauzia and Taraclia" (SARD) and "Support to Local Public Administration" (SLPA).

The Michalko's working trip agenda also includes the visit to the Comrat state university, where he will meet with students and media representatives.

After that, the diplomat and the Bashkan will visit a number of infrastructure projects in the Comrat and Ceadir-Lunga raions, which were implemented with the EU financial assistance. They will visit some enterprises in which the production was launched and jobs were created due to EU grants.