​GAGAUZIA BASHKAN PROPOSES TO OPEN INDUSTRIAL COLLEGE IN COMRAT
21 january, 2020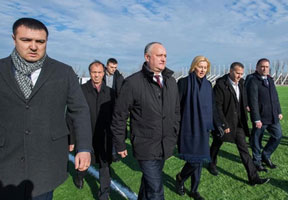 Gagauzia Bashkan [governor] Irina Vlah met with President Igor Dodon, who is paying a visit to the autonomy on Tuesday, and suggested opening an industrial college in Comrat with the financial support of the Turkish Cooperation and Coordination Agency (TIKA).
"You have many times said that industrialization is necessary for economic growth of the republic. The opening of such a college may resolve the Moldova's vital problem – the saturation of the market with qualified specialists. We suppose that the training of young people after the 9th grade at the national, not just at the regional level, may become a solution for the problem. However, for this the Government's decision is necessary for making changes in a number of legislative acts on education", Vlah said.

The Bashkan maintains that up to 700 students could simultaneously learn in the college.

"We have agreement with the Moldova Technical University to train in Comrat the technical specialists, who are not trained in Chisinau. They are even ready to offer teaching staff to us", the Bashkan said, stressing that Turkish partners are ready already in February to confirm the budget of the project on building the educational institution. It is about the financing totaling 5 million euros.

President Dodon said that the opening of such a college in Gagauzia is a great idea, adding that he sees no problem for the Government to support this initiative.