MOLDOVA PRESIDENT'S WEEKLY COMMUNICATION WITH CITIZENS: IGOR DODON BELIEVES IT IS NECESSARY TO SIT AT NEGOTIATING TABLE AND SOLVE TRANSNISTRIA PROBLEM
07 february, 2020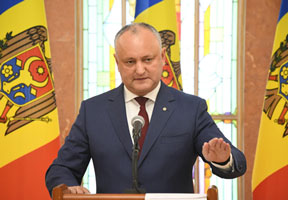 Moldova President Igor Dodon believes it is vitally necessary to sit at the negotiating table and start solving the Transnistria problem in earnest.
In the course of his traditional weekly live Q&A communication with citizens on his YouTube channel and social networks held every Friday morning, Dodon answered inter alia the questions asked by Transnistria residents, and stated that "the two Dniester River banks are one country".

"We are a united country. We all are citizens of the Republic of Moldova. In Transnistria, 300 thousand residents have confirmed their RM citizenship and have received Moldovan passports. So, it turns out that de jure, from the viewpoint of the international law, we are a universally recognized united state, but de facto we are divided. This problem has to be resolved", said Igor Dodon.

The President stated the official Chisinau's readiness to tackle the Transnistrian settlement problem.

"We need to achieve a political solution – just to sit and talk. We in Chisinau stand ready to give necessary guarantees, plenary powers, a broad autonomy to the Transnistrian region. Nobody will solve this problem instead of us – neither Russia, nor the European Union or the United States. We must sit at the negotiating table, recognize that we have a common future, and achieve a solution. Everybody should understand that nobody in the world will ever recognize Transnistria's independence, and therefore Transnistria has no future separately from Moldova", stressed the Moldovan President.

He said that good contacts have been established with the Transnistrian administration and that many problems are already being solved.

"Certain integration is already taking place. Presently, nearly 70% production in Transnistria is linked with Chisinau. About 40% production made in Transnistria is exported to the European Union through Chisinau thanks to the trade privileges we have within the framework of the Deep and Comprehensive Free Trade Agreement [DCFTA, the essential-most component of the EU-Moldova Association Agreement]. All this has been organized through Chisinau's insistence. Another 30% of Transnistria-made goods are sold on the right Dniester bank [i.e. in the mainland Moldova]", said Igor Dodon.

He reminded that last 2-3 years, many problems have been settled for the residents of Transnistria – recognition of Transnistrian education diplomas, neutral-design license plates for Transnistrian motor vehicles etc.

"We have already proposed a way out of the impasse on telecommunications, but we can't understand why the Tiraspol administration would not agree to this proposal. Nevertheless, this small-steps tactics will be continued. There is no hatred between the Dniester sides", stressed President Igor Dodon.