PREMIER CHICU REGARDS TALKING ABOUT INCREASE OF RUSSIAN PEACEKEEPING CONTINGENT TO BE NOT SERIOUS
17 february, 2020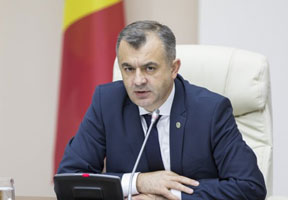 Moldovan Prime Minister Ion Chicu regards as unserious the proposals heard from the Transnistrian administration concerning the need to increase the strength of the Russian peacekeeping contingent on the Dniester by 10-fold - up to 4,200 men.

Chicu stated to journalists after the Monday's weekly working meeting with the President and Parliament Speaker: "Tiraspol has made such statements for many years, so I don't think that this question deserves even discussion. We've heard so many declarations of such kind, and not only from Tiraspol. We don't discuss this question because there is no need whatever in increasing the contingent's strength".

Answering journalists' questions about the opposition-proposed vote of no confidence in Minister of Foreign Affairs and European Integration Aurel Ciocoi, the Premier stated he cannot see any sound reasons for dismissing the Minister. The vote idea was put forward last week, after Aurel Ciocoi had stated that Russia had stopped the bloodshed on the Dniester River in 1992. His words caused strong discontent of conflict veterans.

"The Minister's words were misinterpreted. He meant Russian peacekeeping forces, which acted in conformity with the 1992 Agreement signed between Chisinau and Tiraspol. And that's all!" stated the Prime Minister.

Last week, information appeared in the Russian and Transnistrian press that the Transnistrian administration is proposing to restore the number of Russian peacekeepers stipulated in the documents of the Joint Control Commission (JCC, the supervisory body for the Joint Peacekeeping Forces), reported the Transnistrian JCC Co-Chairman, Oleg Belyakov.