TRANSNISTRIAN LEADER CONDEMNS "REVANCHIST MOODS" OF MOLDOVAN VETERANS
04 march, 2020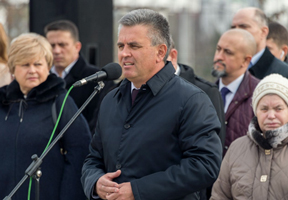 The president of the unrecognized Transnistrian Moldovan Republic (PMR), Vadim Krasnoselsky, expressed indignation that the Moldovan participants in the armed conflict on the Dniester came out in the Chisinau central square with revanchist slogans and demands on the occasion of the 28th anniversary of "the undeclared war against the Transnistrian people, which Moldova began on March 2, 1992".

On Tuesday, Vadim Krasnoselsky took part in a massive rally held at the Glory Memorial in Tiraspol, which was dedicated to the memory of the conflict's first victims – servicemen of the Tiraspol battalion of the Republican Guards, who perished in March 1992 in the Cocieri Village of the Dubasari Raion.

"Unfortunately, the Moldova-started flywheel of crimes did not stop on that. There followed several months of combat actions in the Dubasari Raion, after which – the invasion of Moldovan army formations into the peaceful city of Bendery [situated on the right, "Moldovan' Dniester River side, but staying under Transnistria's control]. That caused new victims among the local civilian population. By now, nearly 28 years have passed since the completion of the combat actions. And what can we see? Last Monday, the Moldovan participants in the 1992 events came out into the Chisinau central square with revanchist slogans and demands. What has changed in them? Nothing! Again aggression, and again the desire to kill. And over the past 28 years, not a single Chisinau politician has repented of the crimes Moldova had committed in Transnistria", said the Tiraspol leader.

In his words, the PMR "needs to have a legal and historic assessment of Moldova's crimes against the Transnistrian people – murders of peaceful civilians and terror acts committed in the territory of Transnistria. Without this, no movement towards each other is possible".

"Over the 28 years, a new generation of people has grown in Transnistria who have their own history, different values, and – the most important – different heroes. For Moldova, heroes are those who attacked and killed peaceful locals, while our heroes defended those peaceful civilians".

"I am astounded about the illusions of those in Chisinau who believe, or pretend to believe, that joint living with Moldova will ensure an excellent life for Transnistrians. Well, I can enumerate such 'excellent' things: a ban on speaking Russia, Moldovan and other languages, except Romanian; closure of Russian-language schools; annihilation of the Transnistrian statehood and of everything and everyone related to the defending of Transnistria. That's what Moldovan politicians are preparing for us. So, we need to assess the situation objectively", stressed Vadim Krasnoselsky.