WHO DELEGATION GETS ACQUAINTED WITH TRANSNISTRIA ACTIONS TO COMBAT COVID-19
07 may, 2020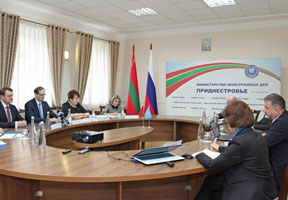 Representatives of the World Health Organization (WHO) to Moldova, led by Igor Pocanevici visited Tiraspol and got acquainted with the situation around the virus pandemic in the region and measures to combat COVID-19.
According to the regional media, the meeting was attended by the Transnistria foreign minister Vitaly Ignatyev, interior minister Ruslan Mova, and acting minister of health Elena Culicenco.

Vitaly Ignatyev positively assessed the visit of the WHO experts, noting that it is "exclusively technical visit, aimed at determining the parameters of interaction and expert analysis of the situation and measures to counter the pandemic in the region".

"Medically speaking, the antidote to the virus is solidarity and unity, so that actions at the global and regional level will give results and we will ensure normal and safe life of the population", Pokanevici expressed his opinion about the long-term nature of the COVID-19.

The delegation got acquainted with the sickness statistics, visited the Crisis Center, the laboratory and medical institutions. Both local authorities and Deputy Prime Minister of Moldova for Reintegration Cristina Lesnic asked the WHO to carry out a technical mission to Transnistria.

As of May 6, 555 cases of infection were registered in the region: 25 people died and 126 recovered. 401 patients are being treated in the region, including 38 minors. 221 patients are diagnosed with pneumonia. Four patients are connected to artificial lung ventilation devices.