​MOLDOVAN DEPUTY PREMIER AND OSCE MISSION HEAD DISCUSS SITUATION IN TRANSNISTRIA SECURITY ZONE
21 may, 2020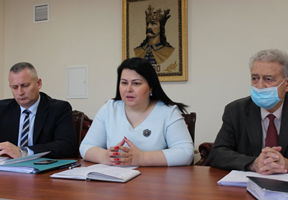 Situation in the Transnistria Security Zone and problems in the security sphere were discussed on Wednesday between Moldova's Special Representative for Transnistria negotiations, Deputy Prime Minister for Country Reintegration Cristina Lesnic and Ambassador Claus Neukirch, the Head of the OSCE Mission to Moldova.
Lesnic asked her vis-a-vis to present the list of the OSCE-stated incidents over the control stations unfolded by the Transnistrian side unilaterally in the period of March 16 to May 19. She confirmed that Chisinau insists on removing such unlawful stations that restrict citizens' free movement.

The Moldovan Co-Chairman of the Joint Control Commission (JCC) General Ion Solonenco drew attention to the need to operatively react to such violations.

The interlocutors agreed that the OSCE monthly reports, reflecting the conclusions on the Security Zone, will be presented to the constitutional authorities of the Republic of Moldova.