​MAIA SANDU DOES NOT ACCEPT MILITARY SOLUTION OF TRANSNISTRIAN CONFLICT
17 november, 2020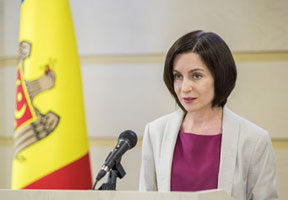 President-elect Maia Sandu is convinced that there may be no military solution to the Transnistrian conflict, so she will be working to achieve a political solution of the conflict, Sandu stated in an interview with BBC.
"The Transnistrian problem is the most serious one. Russia is a component of the [5+2] negotiation format, so we will be discussing the problem. There are things, which we in Chisinau can do by ourselves – struggle against corruption and smuggling etc. But there are things, which we must tackle together. We have to reach a solution. I believe that a solution of the Transnistrian conflict has to be found inside the country", said Maia Sandu.

Asked how she views a Moldova of the future – as a sovereign state or as a part of Romania, Sandu said: "First we have to get reunited here, in Moldova".

"We say we want to become a part of the European Union. But we don't know when this will happen. Therefore, we have to work hard to raise living standards here, and to have a good leadership of the country", said Sandu.