IGOR DOBROVOLSCHI BECOMES NEW COACH OF VERIS FOOTBALL CLUB
31 octomber, 2013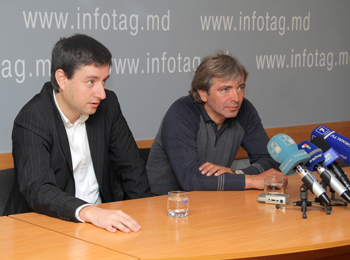 Igor Dobrovolski, thought of as one of the best young football players in the world in the nineties, will become the new coach of the Moldovan football club Veris.

Igor Dobrovolski said at a news conference at Infotag today, that the Veris Club was the first to make him a proposal in this respect, now. Before this, he was invited to train teams from the Russian Federation, Ukraine and Kazakhstan, but he rejected all the offers.

"There are some moments in life, when people need to take a rest. Moreover, at that moment I wasn't ready to return to my football career. To work successfully, one needs a strong desire for this, but at that time, I did not want to start some new projects. After a tensioned year, I decided to take a rest," he said.

Speaking about the goals and tasks of the new team, Dobrovolski said that he will do his utmost to ensure the best performances of this team. At the same time, he said that it prematurely to speak of some concrete results.

Asked what has prompted him to become the coach of the Veris football club, two days before the match with the Dacia club, which he had trained before, he said that this is a simple coincidence and that there are no personal interests involved here. He also said that he will meet the members of the Veritas team today.

Infotag's dossier: Igor Dobrovolski is a retired footballer in the wide attacking midfielder role. He started his career at Moldavian SSR; then played in Russian SFSR, Spain, Italy, France, and Germany. At 39 years old he was coaching Tiligul Tiraspol in the 2005–06 season and then took over the Moldova national football team for the qualification to UEFA Euro 2008, with a view to a two-year extension to his contract if he was successful. In December 2007, he signed a new contract with Moldova. He was allowed to coach any club until the start of 2010 FIFA World Cup qualification (UEFA). On 16 October 2009, Dobrovolski announced his resignation. Later, he started to train the Chisinau football Club Dacia, but terminated the contract in the summer of 2013. Among his outstanding achievements are: Gold Medal at the 1988 Olympics; Silver Boot at the 1988 Olympics (6 goals); Soviet Footballer of the Year: 1990; European Under-21 Championship Winner at 1990 UEFA; French League Title 1991–92 and UEFA Champions League: 1992–93 Winner.
Oh, gosh. I started this game, and when it got to the 'Eats 200Mhz' or something like that, my laptop shut off, seemingly by itself. I freaked. Then I figured out that it had run out of power. Phew. canada goose trillium http://www.toolworld-mce.com/js/aboutus.aspx?2