ION VARANITA URGES MOLDOVA CITIZENS TO JOIN NATIONAL MOVEMENT VICTORIE
11 january, 2016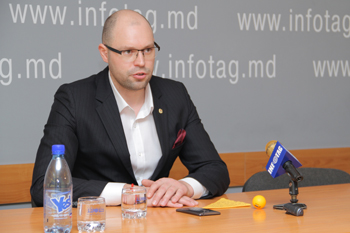 A coach on personal growth, the author of the book "You Can Be Rich, Too" Ion Varanita urges Moldova residents and Moldovans living abroad to join the National Movement Victorie.
On Monday, Varanita said at his news conference at Infotag that the movement was created on January 8 through the social networks "to develop all areas of activities in Moldova and get success".
"Every evening from 8 pm to 10 pm, I'm waiting in the New York Hotel Radisson Blu Leogrand restaurant for everybody who is not indifferent to the future of Moldova, to discuss next steps and activities of the movement, information development and dissemination of information about the press conferences as the media ignore the truth and do not inform people of what is really going on", said Varanite.
He said, "There will be raising money for the movement activities".
"I understand that everybody has a small salary or a miserable pension but there are 4 million people in the country and if everyone contributes 8 lei, it will be enough to achieve this goal as well as to expel the traitors and cowards from the government and the country", Varanita said.
According to him, the movement is "the salvation of Moldova".
"I understand that many people are afraid to express their opinions publicly against those in power, as they work in the organizations belonging to this or that party. Many people are tired, but if we unite and fight together, then everything will be fine. We are to blame for the fact that such people are in power, so we need to seek early elections", said Varanita.
He appealed to Democrat Vlad Plahotniuc, saying he was not afraid of his threats and invited to play table tennis.
He also called on the leader of the Party of Socialists, Igor Dodon and the leaders of pro-European parties to stop campaigning for Moldova's accession to the Eurasian Economic Union, or the European Union".
"You support those who pay you. However, Moldova is an independent state and she should maintain good relations with all the countries", said Varanita.
He suggested that the deputies "should quit politics forever and return the money stolen from the banking system".