PROJECT ON SOCIAL INTEGRATION OF THE DEAF LAUNCHED IN MOLDOVA
03 march, 2016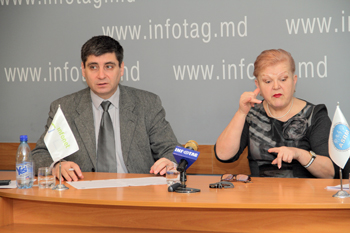 The Alliance of Access to Information and Training Community Centers of Moldova together with the Association of the Deaf of Moldova launched on Wednesday the project "Creation of a Communication Bridges – Approach to Social Integration of Hearing Impaired People" with the financial assistance of the East European Foundation, the Swedish Government and the Ministry of Foreign Affairs of Denmark.
Alliance Executive Director Victor Korol said at the Wednesday's news conference at Infotag that there are 5 thousand people with hearing impairments registered in Moldova and there are only 8 sign language interpreters. Thus, there are 625 deaf people per one interpreter, which is too much.
According to the specialist, in Romania this rate is of 500 deaf people per one interpreter, while in other countries of Europe – about 70 per 1.
"To raise the level of access of hearing impaired people to different services, we will implement the project on social integration of the deaf", Korol said.
He pointed at the fact that within the period of 10 months, a textbook on studying sign language in Moldova will be elaborated and published. The manual will be distributed in all libraries, educational institutions and Ministries of the country.
According to him, also three-month training will be conducted for people, who know sign language, as well as for teachers - 12 from each specialized educational institution (Cahul, Balti, Harbovat village in Calarasi raion, Chisinau). Also, an e-learning course "Introduction in Sign Language" will be organized for about 60 people from different localities of Moldova. Besides, different events on promoting the sign language will be conducted through the entire country.
Executive Director of the Association of the Deaf said that in 2015 the Government allocated 500 thousand lei for implementing different projects for the deaf, but in reality only 200 thousand have been spent, while the rest of the sum has been reduced.
"In Moldova the work of sign language interpreter is not prestigious. Per one hour such interpreter is paid slightly more than 30 lei, moreover he has to cover all the transport costs by himself", Korol said.
He stressed that there is a need to create in Moldova a special center on training sign language interpreters, who currently are forced to study abroad.
Association Chairman Ruslan Lopatiuc said that in Moldovan educational institutions there is the problem of teaching and preparing students for further education as there are no sign language specialists.
"We have discussed with the authorities the idea of creating a special center for training sign language interpreters. However, there are no results so far, thus the education is conducted only within the Association. We hope that in two-three years the authorities will be able to create and maintain such a center", Lopatiuc said.
The cost of the project "Creation of a Communication Bridges – Approach to Social Integration of Hearing Impaired People" is estimated at US$15 thousand.