GOVERNMENT AND NBM HAVE TO REHABILITATE BANK LENDING FOR ECONOMY
14 april, 2017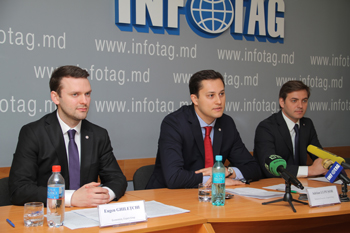 The Government and the National Bank of Moldova (NBM) has to elaborate efficient measures for rehabilitating the crediting by banks of the real economy sector economy, maintains Independent Analytical Center Expert-Grup, whose specialists are concerned about the decline in the volume of Moldovan economy crediting.
At the Tuesday's news conference at Infotag, Expert-Grup Andrian Lupusor said that currently, a crisis of trust between banks and potential borrowers of credits from the real sector of economy is registered on the market.
According to him, this crisis appeared in 2016, when first signs of credit portfolio appeared, as well as signs of growth in bad loans share.
"This paradoxical situation manifests itself in the fact that crediting volumes fell by almost 3 billion lei, while bad loan portfolio grew by 2 billion lei", Lupusor said.
Center experts pointed at the fact that due to decline in crediting, the rate of banks' short-term liquidity has considerably grown, which currently exceeds 50% at the normative of 20%.
The second important index – the bank capital adequacy – also considerably exceeds the NBM regulation.
"Its rate accounts for 29%, while the NBM normative is 16%", Lupusor said.
The expert pointed at the fact that despite such a paradoxical situation in the market, the bank profitability does not raise concerns. In particular, such an important index as return on equity (ROE) stands on 15%, which is quite acceptable level.
"This is a very comfortable profitability for banks, though it is mostly formed not due to lending to the real sector of economy, but from other sources of revenues. Only 40% of bank revenues is ensured from interest yields, while the rest (60%) comes from other sources", Lupusor said.
Press conference participants pointed at the poor development of the Moldovan capital market. As an example they indicated the taxation factor, when deposits in banks are not imposed taxes on, while revenues on shares are charged with 12% plus 6% tax on dividends.