EU SUPPORTS MOLDOVA, GAGAUZIA AND PMR IN BUILDING CONFIDENCE BETWEEN COUNTRY'S TEACHERS
03 may, 2017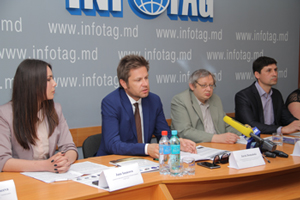 The European Union supported the project, initiated by three public organizations from Moldova, Gagauzia and unrecognized Transnistrian Moldovan republic (PMR), directed to raising confidence among teachers from the two sides of the Dniester River, announced heads of these organizations at the Wednesday's news conference at Infotag.

Coordinator of the EU project for confidence building measures Jarek Domanski of the EU Delegation to Moldova, who attended the press conference, said that the support to this project is a part of a larger Support to Confidence Building Measures Program, implemented by the EU in Moldova and Transnistria since 2009.

"Within this program we are implementing concrete projects in social sphere, healthcare, education, migration, trade, while in recent time even in small and medium enterprises sector. Participants in such projects are citizens of the two sides of the Dniester River, who are imbued with mutual trust to one another, implementing the proposed ideas together", he said.

According to him, the program implementation also helps and contributes to a more efficient activity of working groups in Transnistrian conflict settlement.

Board Chairman of the Comrat Democracy Institute Andrei Borsevschi said that the 24-month project started in December 2016.

According to him, it implies that its organizers will be providing small sub-grants worth up to 10 thousand euros each to public organizations from two Dniester River sides.

Organizers said that the EU agreed to provide 650 thousand euros for the project implementation.

"The total cost of our project is 800 thousand euros", Borshevschi said.

Director of the Bulgarian Culture Society "Rodoliubet" from Transnistria Andrei Nicolaev said that within the project implementation it is planned to involve up to 300 teachers and thanked the EU for financial assistance.

Infotag's dossier: The project for confidence building measures between teachers of the two sides of the Dniester River is being implemented by the Institute for Democracy of Comrat in partnership with the Society of Bulgarian Culture "Rodoliubet" from Transnistria and Center for Women's Rights Protection and Promotion (Chisinau).